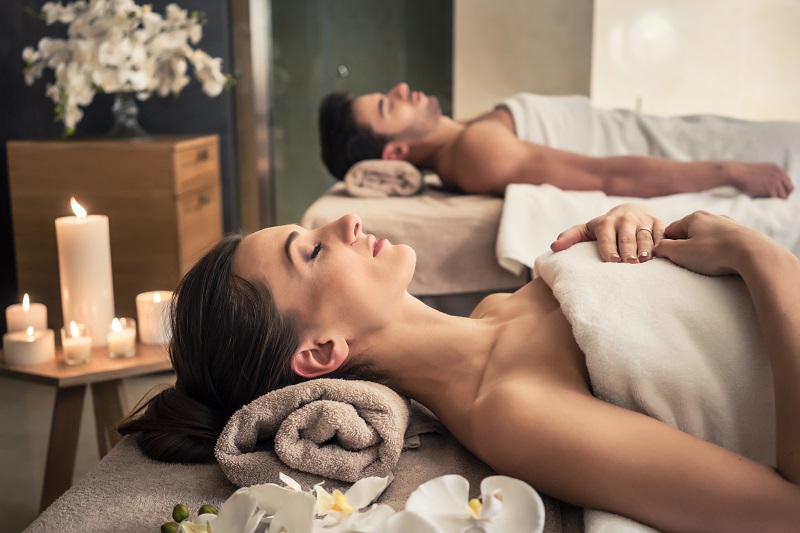 What To Look for a Couples Day Spa in Sydney?
Say goodbye to whatever confusion you have while searching for the best couples day spa in Sydney. We will provide you a reliable checklist that will separate the most trusted from the rest. 
Spoil your loved one with a relaxing experience they will never forget. If you are planning a surprise for your anniversary, availing a couple's massage package is a smart choice. Who doesn't want an experience that will strengthen your relationship after being pampered together? 
To begin erasing your curiosity, here's our Couples Day Spa in Sydney checklist: 
Excellent Couples Day Spa Rooms and Services
There are still a lot of people who are reluctant to try couples massage on their nearest day spa. But what might convince them are spacious rooms, comfy beds, and relaxing ambiance Zen Day Spa has. Before entering the room, our friendly team will make sure to inform you of what will happen during the couples' massage treatment. 
Do you have a plan to surprise a significant other? Please don't settle on just looking at the photos online. Be sure to find some time to check can check the day spa itself. Zen Day Spa is located at Unit 7 / 91-93 Macleay St. in Potts Point. Get the chance to meet our accommodating receptionist, and she will gladly tour you around the spa. Feel the ambiance of our massage rooms and the rest of our facilities. Throw away some questions too. Our staff will gladly answer them.
Skilled Couples Massage Therapists
Flawless facilities are useless when the therapists working in the spa are not skilled and accommodating. Here at Zen Day Spa, we make sure our staff is carefully selected according to high standards. They must both have the educational background plus the experience in doing different massage treatments. 
What Happens During a Couples Massage?
During the couples massage, two therapists will instruct you to lie side by side on our massage tables with covering sheets. They will perform the treatments involved in your chosen couples day spa package – massage, facials, and more. You are guaranteed to feel more radiant, relaxed, and stress-free after the couples massage. What's even better? Maximising an opportunity to bond and connect with the person you love in the most thoughtful way possible. 
Reasonable Cost for Couples Day Spa Packages
At Zen Day Spa, we offer affordable prices that are surely within your budget. If you feel the need to visit a day spa for a pampering experience, choosing this Potts Point haven will not disappoint you. With offerings from massage, facials, o cosmedics treatments, spa body, and tinting, we are no doubt one of the favourites all over Sydney.
So how much do our couples massage cost? Here's a rundown of our best selling couples day spa Sydney packages:
Name
Massage and Time
Price

Lovers Recharge

Couples Hot Oil Massage (60 Minutes)

Head & Scalp Massage (15 Minutes)

$285 for two

Lovers Relax

Couples Hot Oil Massage (45 Minutes)

Skin Refining Facial (45 Minutes)

$335 for two

L

overs Rejuvenation

Couples Aromatherapy Massage (75 Minutes)

Express Facial (30 Minutes)

$375 for two

Lovers Retreat

Aromatic Sea Salts Body Scrub (30 Minutes)

Moisturizing Yogurt Body Mask (30 Minutes)

Couples Relaxation Massage (60 Minutes)

$405 for two
Where to Find the Best Sydney Day Spa for Couples?
Zen Day Spa will not disappoint you if you're looking for the best couples day spa in Sydney. We are located in the heart of Potts Point and just a 5-minute walk from the Kings Cross Station. Therefore, if you plan to bring your special someone with your car, you'll never encounter a problem when it comes to parking. 
Are you feeling hungry after the floating on-air experience with our relaxing couples massage? Then we have a piece of good news for you!  Your most trusted couples day spa in Potts Point is surrounded by fancy cafes and restaurants. Moreover, did we say there's an authentic Thai restaurant just beside us? If you are into Asian food, then Nunglen is for you. 
Couples Day Spa in Sydney Gift Vouchers Online
Available at Zen Day Spa's website, you can avail of our spa gift vouchers from $50 to $400. Above all, if you plan to surprise a significant other, friend, or colleague with a present, gift vouchers are always a great choice. Using the spa gift voucher, you can avail of any of our top-notch services, including our couples day spa packages. Every couple who avails our pampering services leave our day spa with a stronger relationship. 
Keep an eye with different promos and packages that might appear on the website. For a lesser price, you can experience the best massage and facials in Sydney. In addition, this includes remedial massage, foot massage, Swedish massage, age-defying facials, and many more. Get involved and feel the true meaning of relaxation with Zen Day Spa.