Men's Massage and Men's Facial
Facial and Massage for Men in Sydney CBD
Having a massage for men means allowing your mind, body, and soul to take a break from all your physical, mental, and emotional stress. Let the best day spa in Sydney be part of your unforgettable men's massage experience.
Our comfortable rooms are filled with high-quality equipment such as clean and fresh towels, massage tables and calming music. Located in Potts Point and just walking distance from the Kings Cross, you will now have easier access to the most relaxing male massage in Sydney.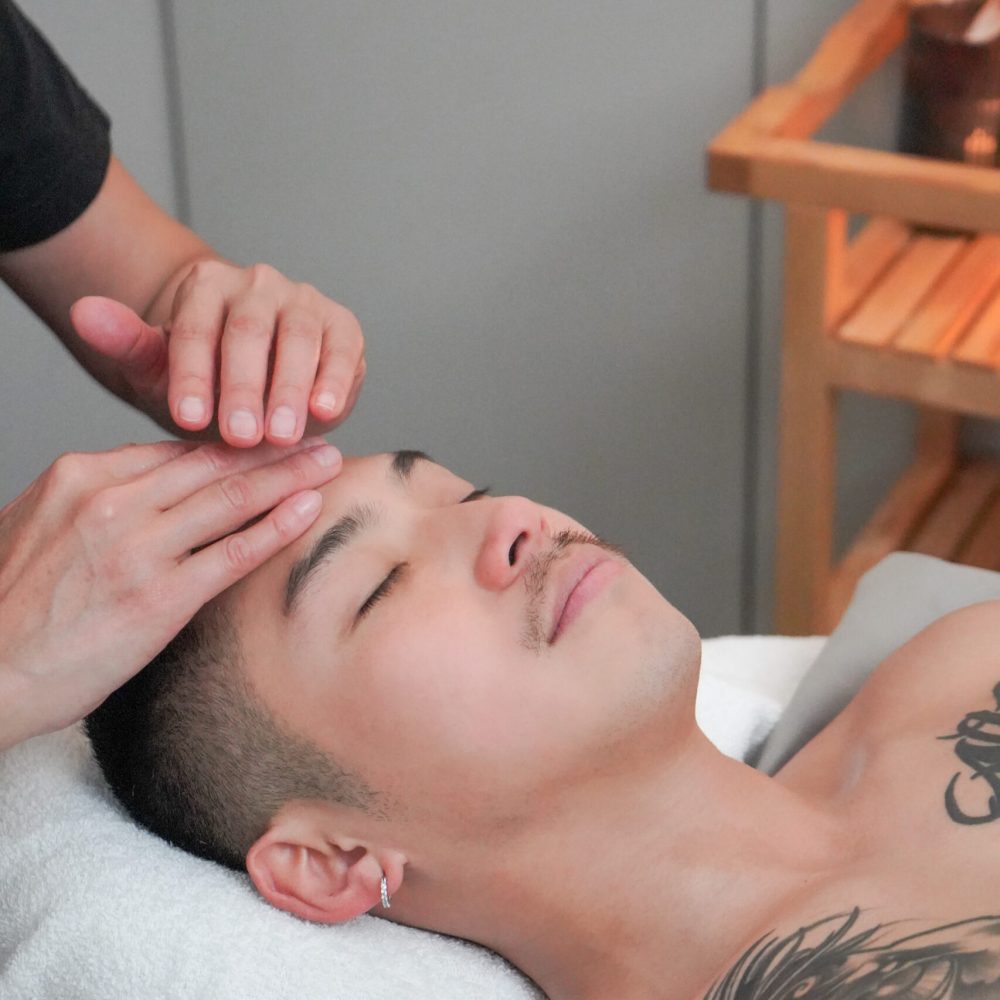 A personalised massage designed to revive tired and fatigued muscles using moderate to firm pressure, giving you a feeling of revitalisation and relaxation. Our massage for men treatment is what you need for workout recovery, cure back pain and many more.
60 mins - $118.00 AUD

75 mins - $138.00 AUD
This perfect rejuvenation for the gentleman works at a deep level to detoxify, balance and hydrate the skin, leaving it supple, refreshed and energised. Our facial treatments for men use top-notch products from Dermalogica sure to produce the best results. 
Why is Men's Massage Important?
It is because of the tons of benefits it can bring, especially to your body and mental health. Whether your workout or sports activity is intense or not, sore muscles are always a problem. A trip to our Potts Point Day spa and avail for a male massage can speed up the healing. A deep tissue massage, for example, can improve your athletic performance. 
Are you feeling down and tired with too much work? Boost your mood with a rejuvenating men's massage in Sydney CBD. After the relaxing massage, there will be an increase in serotonin and dopamine, which are both mood-related neurotransmitters. As a result, you'll feel better, avoid stress, and ready to conquer all your tasks at home and work. 
Because Men's Facial in Sydney Is Now a Thing
Most men avoid facial because it is a feminine thing. It's not because it's more of taking care of your skin. A lot of our clients are asking, is it okay to have a men's facial if they have a beard? Of course, they can! We have beauty and facial therapists who are ready to cleanse, steam, exfoliate and nourish your skin. 
Men need to have a facial treatment because their skin produces more oil. If you continue to ignore this, it can lead to skin problems such as clogged pores and blackheads. We do want to look our best when we meet our special someone, right? Then it's time to schedule a facial treatment for men at Sydney's Zen Day Spa.  
With the city's fast-paced life, every man should know how to take care of themselves. We offer men's pamper packages in Sydney that are hard to resist. These men's day spa packages consist of our massage and facial treatments. You can choose from our Zen Duo – For Him and Zen De-Stress – For Him, designed to relax our male clients. The search for men's spa packages near you is over, thanks to our Sydney city day spa!
45 Minutes The Men's Massage
45 Minutes Skin Refining Facial
90 Minutes Deep Tissue Massage
30 Minutes Express Facial
Best Massage Therapists for Men
With some men being hesitant to give themselves time to visit the spa, an accommodating massage therapist can make a first time experience not the last. Though many prefer to have a male to male massage, here at Zen Day Spa, we have female therapists that are as great.
Our licensed massage therapists are caring, polite, friendly, and intuitive. They will find time to make you comfortable and answer your questions in the best way possible. To know more about their background, feel free to visit this page. 
Ditch your mobile phones and get ready for an ultimate mind and body detox with the help of the best massage therapists for men.
Gift Voucher to Avail Men's Massage and Facial Treatments
Men don't get massages as they should, making this the perfect time to surprise a male friend with our Spa Gift Voucher. Don't take no for an answer and let him experience a relaxing life outside the office or the gym. He will surely not regret using the Spa Gift Voucher to avail our massage offers.
Get on board and book a men's massage and facial treatment at Potts Point, Sydney. Start by chatting with our customer service team via the chat bubble below. Or contact us via (02) 9361 4200 or [email protected] for more of your concerns.
*Some conditions are not suitable for massage therapies. Please speak to your doctor about any health concerns you may have before making an appointment