Body scrub is a popular treatment in day spas in Sydney because it is a salt or sugar-based physical exfoliant used to remove dead skin cells. High temperature or constant exposure to the sun triggers our skin, making it rough. You may notice small bumps appearing as you may have flaky and dry skin. These situations are reliable signs that you need to exfoliate, and Zen Day Spa can help you with our body scrub and other body treatments.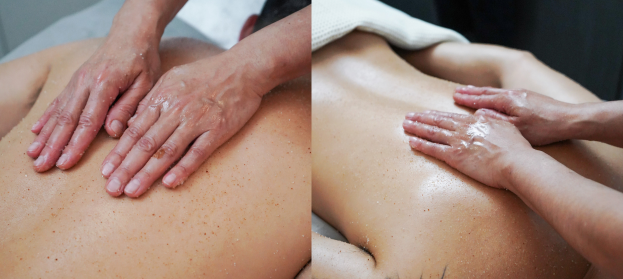 Body Scrub and More Body Treatments
Your body scrub spa in Sydney offers various kinds of body treatments. During the colder seasons, accumulating dead skin cells is inevitable. The best way to get rid of them is by booking our in-demand body scrub and body mask treatments. Our skilled therapists are ready to serve whatever your requests are to achieve softer and smoother skin.
Our body treatments cost from $90 to $95 for 30 minutes. This is applicable for both our body mask and body scrub treatments. A perfect price backed up by our therapists and equipment that make the process relaxing. This includes our luxurious bathroom spa showers, which create a peaceful feeling after your preferred body treatment. On this page, you'll have a selection of well-being journeys that will reveal or bring back your healthy and radiant skin.

AROMATIC SEA SALTS BODY SCRUB
Relax as you enjoy a deep cleansing treatment with sea salt and aromatic essential oil. This treatment is designed to gently exfoliate and revitalise the skin. Skin is then replenished and moisturised with a full body hydrating lotion

ORGANIC SUGAR & JOJOBA BODY SCRUB
An invigorating body scrub that deeply exfoliates while hydrating your skin. With the nourishing powers of organic jojoba oil, this organic body scrub helps to rejuvenate your skin leaving it radiant and glowing

MOISTURISING YOGURT BODY MASK
This luxurious body treatment's goal is to deeply replenish and rejuvenate dry, out-of-condition skin using pure Australian yogurt and honey. Your stress will evaporate as you will be treated to a head & scalp massage

DETOXIFYING KAOLIN CLAY BODY MASK
Combining the powerful detoxifying benefits of kaolin clay with shea butter, this deeply relaxing body treatment can effectively restore radiance to dull and tired skin, leaving it revitalised with a renewed sense of well being
Types of Body Scrubs Available
You can choose between two options – Aromatic Sea Salts Body Scrub and Organic Sugar and Jojoba Body Scrub. Both body scrub spa treatments are guaranteed excellent results, especially on your skin. What's even better is the chance to customize it with another spa treatment. A staple in most of our Sydney clients is a body scrub massage. They prefer to add a massage treatment for a more soothing full body exfoliation. If you are still asking for a full body scrub near me, visit our day spa in Potts Point today!
Decadent body scrub with Aromatic Sea salt will treat you with a uniquely relaxing experience. Our skin therapists will gently exfoliate and revitalize your skin, eliminating all the unwanted toxins in your body. After that, they will replenish and moisturize your skin, leaving them soft, silky, and velvety. The process will also relieve you from stress and fatigue.
If you choose our Organic Sugar and Jojoba Body Scrub – expect a treatment that exfoliates your skin. It will peel off all the dead cells that accumulated during the past weeks or months. The nourishing effect of organic jojoba oil will surely detoxify and cleanse your body, leaving you rejuvenated.
Choose from our Body Mask Treatments
The face usually gets more attention when it comes to skincare, but how about our bodies? The application of your preferred product over the body will result in therapeutic effects such as hydration and detoxification. At your most trusted Potts Point Day spa, we offer yogurt and kaolin clay body mask.
Say goodbye to your stress after having our moisturising yogurt body mask. The use of pure Australian yogurt not only adds glow to your body but deals with blemishes and scars on your skin. To add, the zinc element from yogurt can also reduce inflammation, soothing the redness of the specific area of your body. If you happen to have a sunburn, having this body treatment is a good idea. You will also receive our relaxing head and scalp massage during this treatment.
The use of Kaolin Clay in our body mask aids to remove skin impurities. One of the gentlest clay for our skin will eliminate your flaky dead skin cells, excess oil, dirt, and toxins, resulting in more radiant skin. If your skin is inflamed, our Kaolin Clay body mask will help calm and soothe your skin.
Gift Vouchers to Avail our Body Treatments
You can purchase our spa gift vouchers for yourself or as a gift to your family, friends, relatives, colleagues, or special someone. If you own or receive one, prepare to purchase the body scrub and treatments found on this page, if it covers the total price. You'll enjoy not only the incredible effects of body scrub and body mask but also the total experience at our day spa.
*Some conditions are not suitable for massage therapies. Please speak to your doctor about any health concerns you may have before making an appointment