There's no better way to spoil yourself than to have a facial in Sydney. It is a kind of experience you will not regret because of its overwhelming benefits to your face. Living in a city where people have busy schedules, having a facial treatment will provide your needed boost. Expect to look and feel better after having a facial in a Sydney day spa near you.
A Sydney facial experience is something Zen Day Spa can provide to all our valued customers. Most of them return because we use Dermalogica, the top skincare brand in the country. Combine it with our reliable and talented aestheticians, there's no doubt why we provide the best facial treatments in Sydney.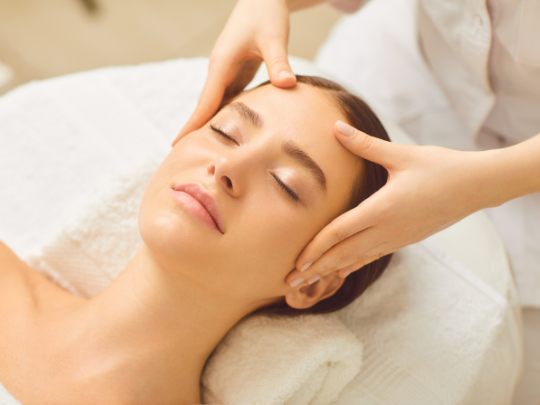 Facial Treatments We Offer
Our facials in Sydney include advanced types of treatments expertly chosen to attain your flawless complexion. We have facial treatments in Sydney that cater to individuals with short free time. Our team has also assured us to offer a treatment that can calm, soothe, and hydrate your skin. We have Age Smart Age-Defying treatment that can make your skin look younger.
How much does a facial cost in Sydney? At our day spa, it ranges from $88 to $178. But it will depend on the duration and other treatments involved. Moreover, some facials are part of a package that reduces anxiety because of the addition of head and scalp massage. Book these treatments and packages by clicking on the chat bubble below. Our customer service team will assist you until you have secured your appointment.
ZEN STONE RADIANCE FACIAL - SIGNATURE
This luxurious facial & skincare can instantly restore radiance of your skin. With the use of hot stone to stimulate blood circulation and our unique facial massage techniques, your skin is left dewy, supple and radiant
EXPRESS FACIAL - FOR HIM / HER
When time is short and you need to look your best, this express facial will leave your skin looking clean and healthy
SKIN REFINING FACIAL – FOR HIM / HER
This purifying facial helps to re-energizes dull and fatigued skin, while offering optimal moisture and protection. Skin is healthy-looking and comfortable even on-the-go
REJUVENATING FACIAL – FOR HIM / HER
A relaxing journey designed to rejuvenate a dull and fatigued complexion. Add this with a pressure point massage on the neck and shoulder area to aid relaxation – perfection! This treatment can restore radiance while washes away stress and restore inner calm
ULTRA-CALMING FACIAL - FOR HIM / HER
This treatment is specifically designed to instantly calm, soothe and hydrate both genetic sensitive or temporary sensitised skin. We use oat kernel extract, oil and other ingredients to reduce redness and strengthen the protective barrier of your skin.
AGE SMART AGE-DEFYING FACIAL – FOR HIM / HER
Designed to combat early signs of skin aging, this facial treatment can reduce the appearance of tine lines and revive a youthful radiance to your complexion
ABSOLUTE-HYDRATION FACIAL - FOR HIM / HER
A comprehensive treatment that restores optimum hydration of skin within, leaving it plumped, soft and revived. To complement the treatment, a luxury Contour Mask is applied while you snooze to a deeply relaxing shoulder massage.
AGE SMART SECRET OF YOUTH FACIAL (w/ POWER PLUS EXFOLIATION) – FOR HIM / HER
This high performance treatment helps improves tonicity and firmness, and combats the early signs of aging. We use a combination high-tech ingredients along with active plant botanicals for a smoother skin. Don't forget the facial massage techniques we use for a firmer and healthier skin.
INDULGENCE FACIAL (INCLUDES EYEBROW SHAPE & TINT AND EYELASH TINT)
Our all-time favourite Detoxifying Facial together with eyebrow shape & tint and eyelash tint
Yes, facials are worth it! Trust your reliable aestheticians to help you achieve younger-looking skin. A facial treatment is excellent for the face because it regenerates and cleaners your skin. The process makes your skin healthier because it will eliminate acne, wrinkles, and age spots, which we all want to avoid. 
How often should I get Sydney facials?
The general recommendation is three to four weeks. But your aesthetician will decide how often you should go. There are some who will need it more often, especially if they just started the treatment. In order to solve their facial problem, experts stress the importance of checking your skin early. The sooner, the better to avoid a challenging and lengthy process. For every person who loves to wear make-up, it is advisable to have a facial more often.
A monthly facial is worth it, especially if you start at a young page. Simply because your skin will react to the treatment faster. Your spending will be less too, because once you achieve your goal, what you need to do is maintain it at home. Your aesthetician will inform you about the ideal products you should use.
Is paying for a facial in Sydney worth it?
With your busy lifestyle, paying for a facial is more than worth it. It will help you age gracefully, while having radiant and healthy skin. Don't think a lot of the price because its physical and mental benefits will outweigh it. You will have reduced fine lines and age spots while enjoying hydrated skin. Book your preferred facial treatment at your favorite day spa in Sydney today!
*Some conditions are not suitable for massage therapies. Please speak to your doctor about any health concerns you may have before making an appointment