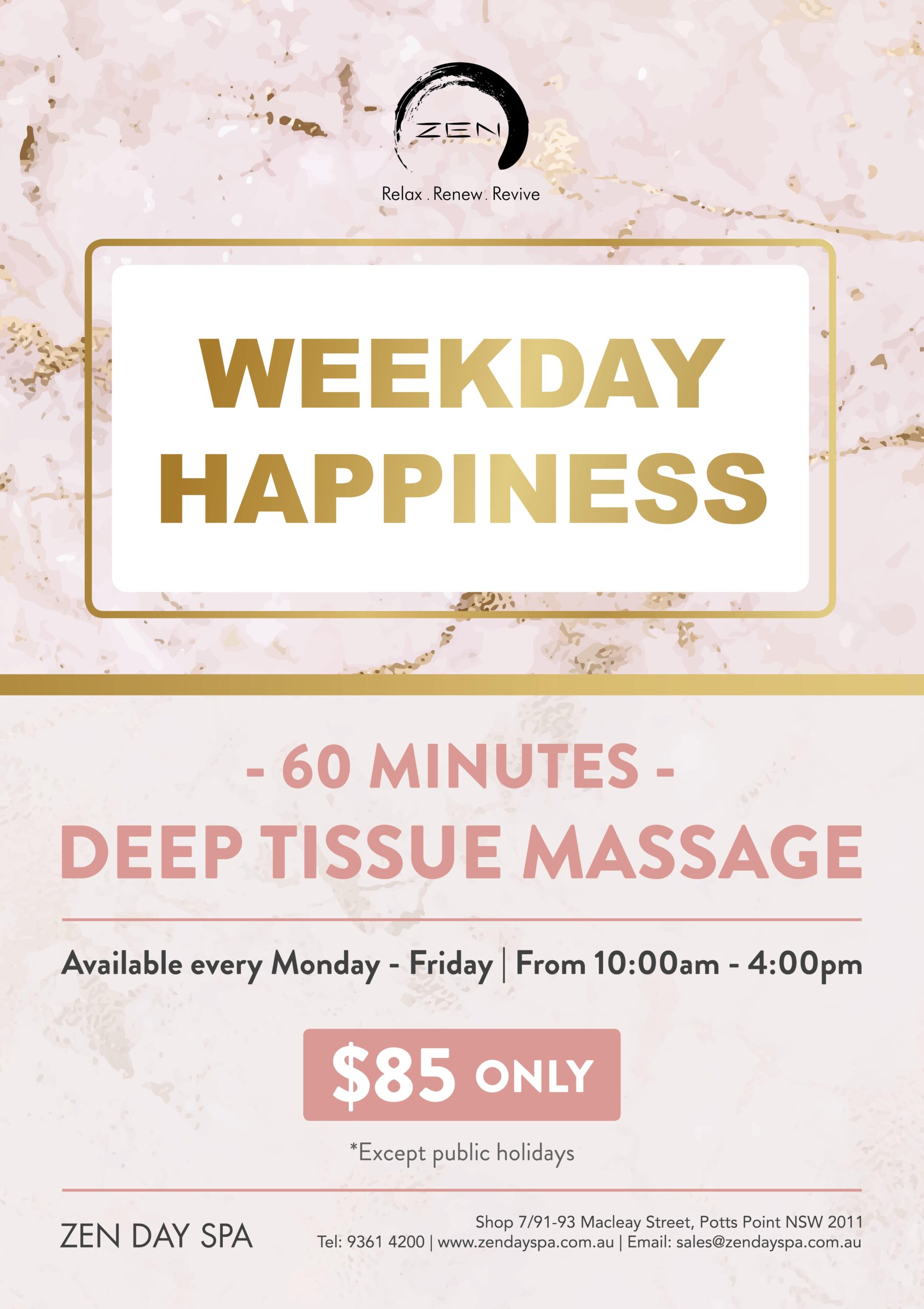 On the hunt for a deep tissue massage deal near Sydney NSW? You are in for a treat at your most trusted day spa in Potts Point. We are offering a deep tissue massage promo for only $85. The exclusive deal is only available from Monday to Friday from 10 am to 4 pm. Don't hesitate to book your appointment today!
What is a Deep Tissue Massage Good for?
If you have stress and tension in your body, deep tissue massage is good for you! Moreover, it helps lower your systolic, diastolic, and arterial blood pressure too. What's even better is that this type of massage increases production of serotonin, which promotes good feelings and happiness. This benefits both your physical and mental health, which many people need right now.
How often should I get a deep tissue massage?
An expert like your massage therapist can recommend the frequency of your deep tissue massage. After knowing the frequency and duration that can address your health condition, regular sessions, depending on the recommendations, aid in teaching the body to manipulate the connective tissues for self-healing.
Why Choose our Deep Tissue Massage deal?
You can find the best deep tissue massage deal at Zen Day Spa. We have massage therapists who can take care of your needs. You can inform them beforehand how they will execute our deep tissue massage. If you have more sensitive body parts, they will make sure to avoid them. During the treatment, you can inform them if you also want to adjust the pressure. They are friendly and polite, and we are sure you'll not have any problems.
A discounted offer will always be a hit among customers. You'll never regret booking our deep tissue massage deal because of its overflowing benefits to your well-being. For only $85, you can experience one of the best spa experiences of your life. Not to mention the relaxing massage music you will hear during the treatment.
Advanced booking is required. Any cancellation has to be made 24 hours in advance
You cannot use this promotion in conjunction with any other promotions, gift vouchers and coupons
Balance can only be settled by cash or credit card
In case of dispute, Zen Day Spa reserves the right to a final decision.