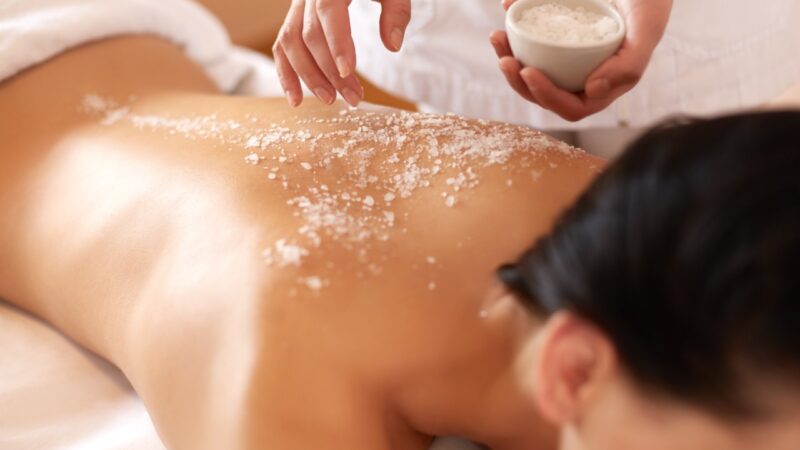 Body scrub treatment is a mechanical exfoliant, meaning they physically remove dead skin cells from the outer layer of your skin with abrasive ingredients, like sugar or salt. This stimulates skin cell turnover, resulting in smoother, brighter skin and possibly preventing future acne breakouts.
Body scrubs are designed with a particle-like texture that is thick yet spreadable to help give older skin cells the heave-ho. Though our skin naturally sheds these dead cells over time, encouraging the process helps create softer-feeling skin more quickly.
The Body Scrub Treatments Benefits
The benefits of body scrub treatments involve both physical and mental health. Like any other spa treatment, having this will surely help your overall being. If you plan to have this treatment at Zen Day Spa, expect the following benefits to nourish your body and mind.
1. Exfoliation Removes Dead Skin Cells
The number one benefit of body scrub treatments is to get rid of dead skin cells. The process only brings out the best for your skin. There are some instances where our skin struggles to shed dead skin cells. As a result, people experience skin problems like acne and rough patches. The power of an effective body scrub is to give your skin a gorgeous glow.
Our physical attributes limit us from reaching our body's neglected areas, making most of them left uncleaned or. A body scrub treatment will clean rough areas like elbows and knees.  After the process, you can see immense improvements in the said body parts.
3. Helps Achieve a More Hydrated Skin
Did you know body scrubs promote skin hydration by allowing your skin cells better absorb moisturizers? This benefit results in another one as moisturizing after a scrub will make your skin feel softer. Just be consistent and persistent when it comes to moisturizing, and you'll see the immediate results.
4. Lessens the frequency of acne
Do you have sensitive skin and want those crazy breakouts to end? The cell turnover speeds up when you have a regular body scrub. New cells will now surface, resulting in better skin, free of acne, rough patches, and other issues.
5. Raises the level of collagen production
The constant scrubbing will allow new skin cells to emerge. Because of this action, there will be a cell turnover rate increase such as collagen. According to Healthline, they play a big role in strengthening skin, especially in hydration and elasticity. We are not getting any younger, the best way to avoid dry skin is by having this body treatment.
6. Gives You a Younger Looking Skin
The removal of dead skin cells only does great things to your body. Aside from removing the dullness from your skin, it also increases your blood circulation. If you are one of those whose primary goal is to have youthful skin, body scrub treatment is definitely for you.
7. Improves Mood and Build Confidence
The benefits of body scrub treatments are more than physical. Once you feel that your skin is improving, a better mood will follow. This will rebuild the confidence that's been hiding because of your physical insecurities. There is also a high chance of your productivity to improve, resulting to a better lifestyle.
A body scrub experience is one of the best ways to release stress. For most people, the process helps to calm not only their bodies but also their minds. After all we have been through this past few years, we all deserve a break. Come to the Sydney day spa near you to experience your much-awaited body scrub treatments.
How is a Body Scrub Done at The Spa?
Are the benefits of body scrub treatments enough to convince you to have one soon? If you are planning to book this treatment at the spa, please read through the common process below:
1. Body Treatment Orientation
Before the actual treatment, your esthetician or therapist will inform you something about the product and procedure. If you have questions in mind or some clarifications, make sure to talk to them. It is their responsibility to make you comfortable even before the treatment starts. 
2. Strip Down to Your Body Scrub Attire
Day Spas have different requirements when it comes to the right clothing. Some may offer disposable underwear, but all will require ladies to cover their breasts with a towel. 
Since this process can be very invigorating, you must be comfortable in your current position. The therapist will use either salt or sugar to rub, scrub, and massage your body section by section. It will start with the one side of the back, sliding down to the rest of your body.
The therapist will advise you to take a shower to gently wash away all the exfoliating products on your body. Some spas offer body scrub and body mask separately. If both are part of the day spa's body treatment package, they will now change the table sheets while you're at the shower. 
The process after body scrub where the therapist will dry yours from head to toe. They will apply lotion, oil, cream, clay, honey or yogurt to extend the effects of the body scrub. You'll be going home restoring your radiance after this treatment.
Where to find the Best Body Scrub in Sydney
While massage and facial treatments are two cornerstones of Sydney day spas, body treatments such as body scrub are beginning to take over. With benefits that combine both treatments, convincing your clients, male or female, will not be as hard.
There are many day spas in Sydney that offer a body scrub, but Zen Day Spa in Potts Point has all the services that can maximise your experience. Aside from our friendly staff and excellent therapists, you are also welcome to customise your preferred treatments. If you want to add a body scrub, massage or facial after the body scrub, you are free to do so. Kindly click on the chat bubble below to talk to our customer service team or email us at sales@zendayspa.com.au.