A massage gift voucher as a Birthday Gift Idea? We can't blame you if you are thinking of this! Your most trusted day spa in Sydney offers spa gift vouchers containing massages, facials, and body treatments. They are also perfect for special occasions such as Father's Day, Mother's Day, weddings, anniversaries, and Christmas.
Aside from being a gift to the special people in your life, you can have our spa gift vouchers as a gift for yourself. It has been a tough year, and you deserve a facial or massage gift voucher to pamper yourself. There's no other place you receive the gift of wellness than in Zen Day Spa. Did we mention our Mega Gift Voucher Sale is back! Yes it is!
Open-Value Gift Voucher OR
Specific Package via Zen
Purchase Online via Paypal

Why Choose Our Massage Gift Vouchers?
Our clients love our day spa because of our range of relaxing massages. And the best thing about it is you send it as a present via massage gift voucher – a situation made possible by our specific package option. Click the option above and choose whatever massage treatment to include in the spa gift voucher. With Sydney CBD's busy lifestyle, every recipient will enjoy having an hour or two at the spa.
Anybody who receives a massage gift voucher will put a smile on their face. Through the lockdowns and all the challenges this year, it's perfect to have a blissful spa experience. One of the advantages of a spa gift voucher is the recipient can use it any day and time, as long as it covers its validity of 3 years.
If you want the recipient to choose their preferred treatment, we also offer an open value. This will allow them to select from our massage, facial, and day spa packages.
What Can I Put On My Massage Gift Voucher
Our customer service team will assist you with this matter. First, they will ask who the gift voucher is for and from. If you have a personalised message for the recipient, you have an option to add it as well. Lastly, you can also see the kind of gift voucher you'll send – open voucher or specific package.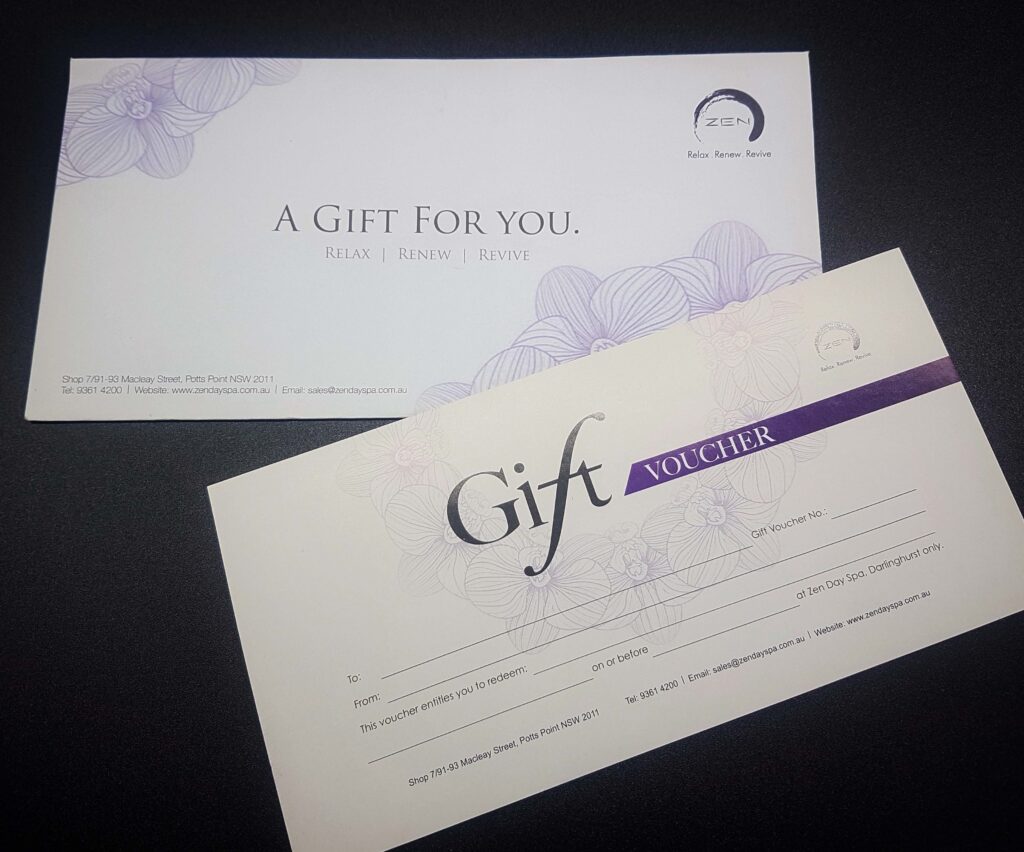 We process gift voucher orders placed online daily from Monday to Sunday. Upon successful processing of your order through Paypal, our Spa Concierge Team will be in touch with you via email and have the gift voucher issued to you or the recipient within 12 hours.
If your order is placed on a national holiday, it will be processed on the following business day.
You are also welcome to email us the name and email address of the recipient, together with your message to [email protected] after submitting your order through Paypal.
In addition, orders will be processed by our Spa Concierge Team. After that, we will deliver it within hours. 
What Our Customers Say About Spa Gift Vouchers
From the processing to the spa treatment, our customers have nothing but great words to say about Zen Day Spa. See their heartwarming comments below: 
Any amount exceeding the certificate value can be settled by cash or credit card

Reservation is subject to availability at time of booking

This gift voucher must be presented before payment and can only be redeemed once

This gift voucher is non-refundable, and is not exchangeable for cash in part or in whole

The gift voucher is non-redeemable on public holidays

This gift voucher has a validity of 3 years from the date of issue and is only valid until the date shown on the voucher. It will not be extended in any circumstances.

In case of any dispute, Zen Day Spa reserved the right to make the final decision.
For enquiries, please call +61 2 93614200 or email us at [email protected]