Valentine's Day Gift Voucher Sale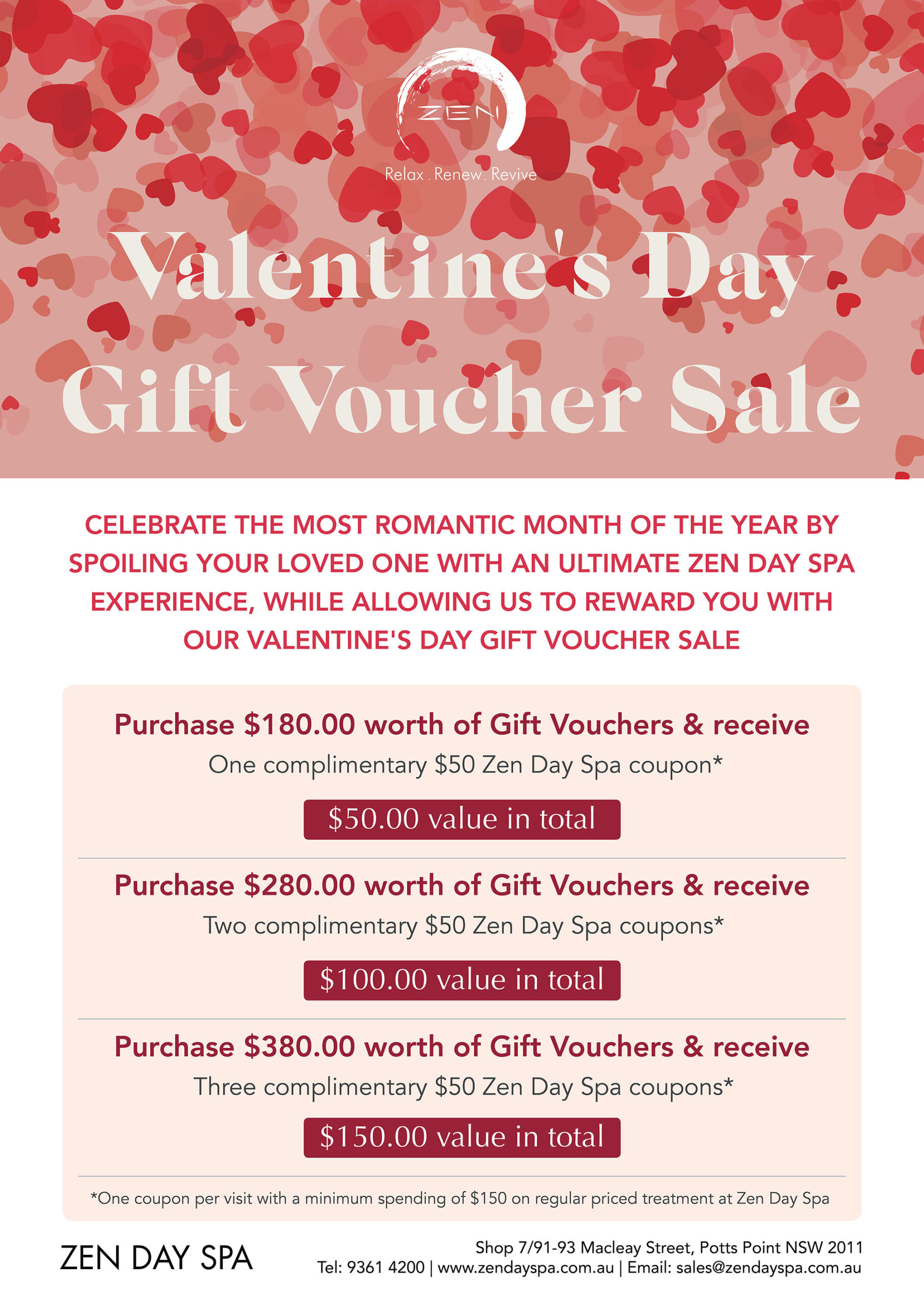 Valentine's Day Gift Voucher Sale
From now until 16th February 2020, receive Zen Day Spa coupons to be used on regular priced treatments when you spend a minimum purchase of $180.00 on our gift vouchers.
For purchase, please call us on 02 93614200 or email us at sales@zendayspa.com.au. T&Cs apply.
Mega Gift Voucher Sale for Valentine's Day
Valentine's Day is all about love, how about we give you one with our Mega Gift Voucher Sale. As a day spa that serves not only in Potts Point but all over Sydney, we pride ourselves in offering the best deals to our customers.
Thanks for loving our Mega Gift Voucher Sale last holiday season! And now, we are putting it back with an even better offer. This Valentine's Day for every purchase $180 worth of Gift Vouchers, you'll receive one complimentary $50 Zen Day Spa Coupon. While purchases of $280 and $380 worth of Gift Vouchers, you are entitled to two and three complimentary $50 coupons, respectively.  To have a better understanding of these offers, refer to the poster on this page.
Why Choose a Gift Voucher this Valentine's Day?
There's nothing right or wrong about a Valentine's Day Gift idea. You just need to know  which presents will make her happy. We will not stop you in giving the woman you love with the beautiful flowers and mouthwatering chocolates. But we are offering you a great option that will prioritise not only her wants but her health.
Having our Gift Voucher means you can choose any of our world-class pampering treatments. With our list of services, you will have the time to select the perfect type of massage, facial treatment, or any service that we offer. To know more about the gift voucher processing, feel free to call us or email at sales@zendayspa.com.au.
Try our Couples Massage on Valentine's Day
Your favourite Sydney Day Spa suggests using your gift vouchers to avail of our Couples Massage. There's no better way to celebrate Valentine's Day than relaxing together. Equipped with top-notch facilities and services, we tick all the boxes of what you're looking for the best couples massage in Sydney. 
Avoid being one of the victims of a fully booked response by communicating with us today. Available from $50 to $400, we assure of a positive response once you surprise them with our gift vouchers this Valentine's Day.
Provide The Best Customer Experience.
Our highly trained therapists are committed to excellence, infused with enthusiasm and take pride in delivering a pampering experience that will leave you feeling relaxed and stress-free.