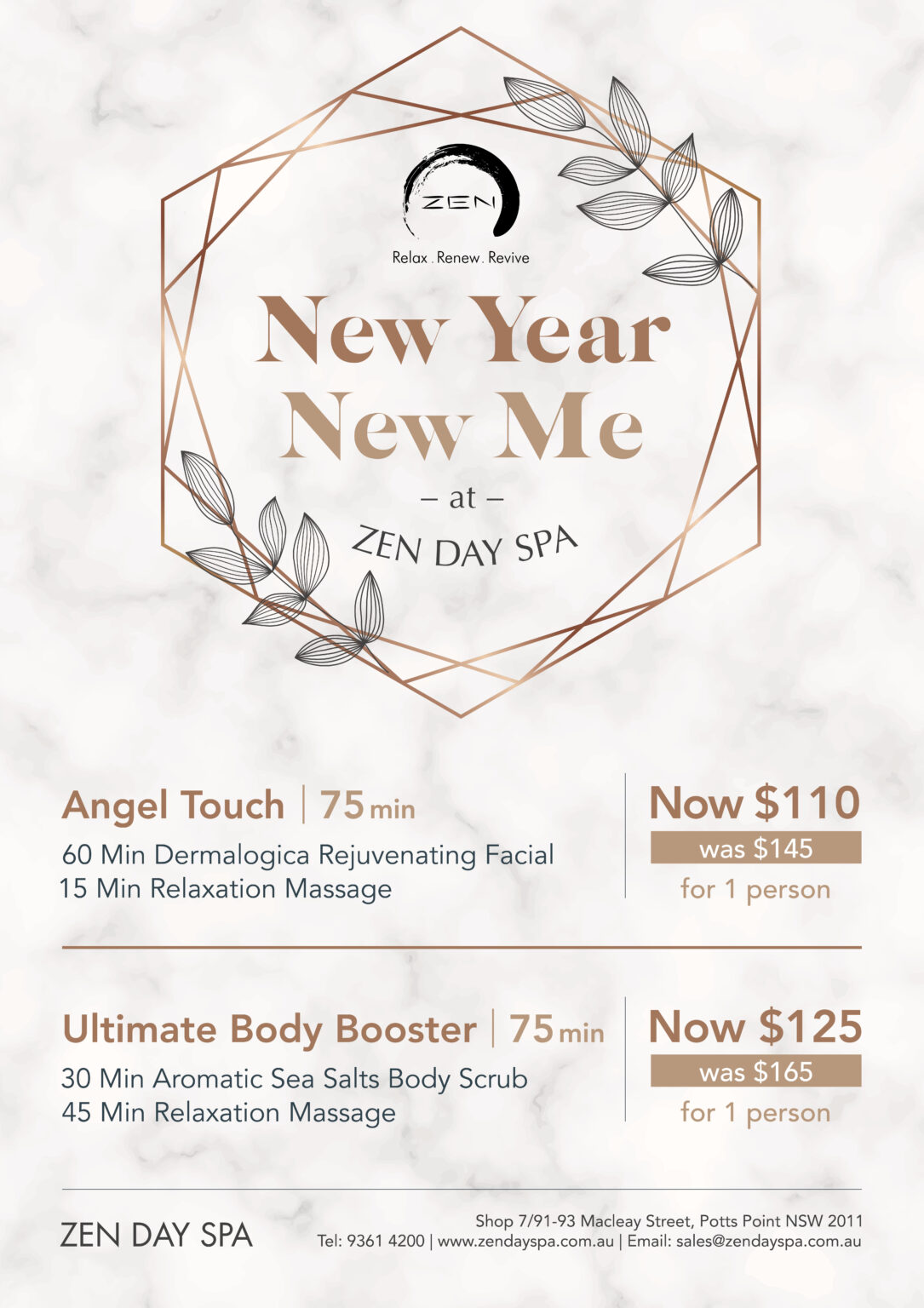 Spa Monthly Promos For You
Spa Monthly Promos is what you need if you want to spend your money wisely. Without sacrificing quality, Zen Day Spa will provide you the best day spa deals if you are on a budget. Experience high quality pampering services at a lower price only at your favourite Sydney day spa.
Our valued customers are always our top priority. We want you to relax, renew, and revive by experiencing our world-class services. Updated almost monthly to avail of our offers at a lower price, be sure to visit this page if you want to know our latest deals.
Every dollar spent to avail our Spa Monthly Promos will be worth it. You'll enjoy not just our excellent massage treatments but also the warmth of our friendly staff upon entering the room. They will welcome you will all smiles, ready to answer whatever your questions are. 
Begin 2020 with pampering offers that will give you a refreshing start. Our talented team came up with New Year Spa Packages as a motivation for our loyal customers to have a radiant start to their year. Availing either Angel Touch or Ultimate Body Booster means they are set for an ultimate relaxing experience, which what we all need to kick off a brand new year.
After a busy holiday season, your body needs something that will prepare you for another hectic working year. There's no better way to achieve this by having our New Year, New Me offers. Who does not want a Rejuvenating Dermalogica Facial and Relaxing Massage? How about an Aromatic Sea Salts Body Scrub? More information about these New Year Spa Packages is listed below.
Gift Vouchers for Spa Monthly Promos
Do you know what's even better? You can use Zen Day Spa's open value gift vouchers to avail of our Spa Monthly Promos. Grab this opportunity and buy our Spa Gift Vouchers for you or as a surprise gift to a relative, friend, and colleague. Promo or not, we assure your experience with the best day spa in Sydney will leave you a smile on your faces
60 Minutes Dermalogica Rejuvenating Facial
15 Minutes Relaxation Massage
30 Minutes Aromatic Sea Salts Body Scrub
45 Minutes Relaxation Massage
*Some conditions are not suitable for massage therapies. Please speak to your doctor about any health concerns you may have before making an appointment.
Provide The Best Customer Experience.
Our highly trained therapists are committed to excellence, infused with enthusiasm and take pride in delivering a pampering experience that will leave you feeling relaxed and stress-free.