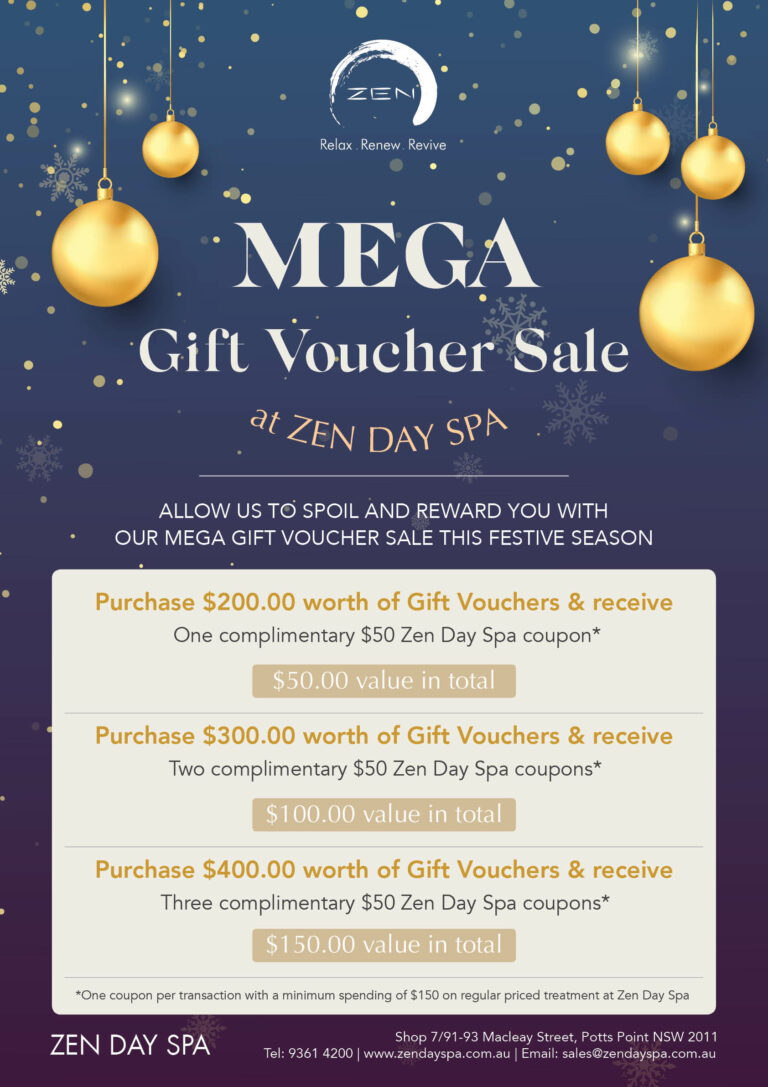 No wrapping efforts needed, if you are looking for a holiday present, Christmas Gift Voucher is the way to go! After all, you deserve to relax after all the stress you experienced this year – a priceless reward we all need!
There's no problem at all if you want to avail of a Christmas Gift Voucher for yourself. If there's a perfect time to reward yourself with something, the holiday season is the answer. For reaching your goals despite the adversities, you deserve a pampering session from Zen Day Spa. 
Best Christmas Gift for Women
Do you have plans on surprising the woman of your life this Christmas? Are you thinking of buying her expensive gifts such as shoes and bags? Can we give a suggestion? How about a Christmas Gift Voucher? Come to think of it – she might want a getaway this yuletide season. Why not treat her with a Spa Gift Voucher that allows her to choose her favourite massage and facial treatments. 
We believe that one of the best holiday gifts for women is a Christmas Gift Voucher. It's like giving them the physical and mental rest they need after a tiring year. Most women prefer to be pampered and feel their best always. 
Every woman is appreciative and might invite you to go with her at the day spa. With our couples massage therapy as one of our in-demand services, you might want to experience ultimate relaxation together. 
The Spark of Christmas Deals
Let's admit it, one of our most anticipated moments every holiday season is the Christmas deals. Roaming around the mall, you can see items with discounted prices. Various package deals in the grocery stores and restaurants as they join the holiday craze. These deals, Christmas Gift Voucher included, make the season merrier.  It's like allowing every people to spread joy and love through holiday presents. 
Spa Experience This Christmas
Avoid Christmas traffic and crowds and do the luxury of shopping from your home. Comfortable and you just saved tons of time and effort. What's even better is that you are sure that the recipient will get the gift they want. This is the experience we want you to have with our Christmas Gift Vouchers. 
From now until 31st December 2019, purchase a minimum value of $200.00 gift vouchers and be rewarded with our $50.00 coupons that can be used on our regular priced treatments in your next visit. A world-class spa experience awaits once you avail of our treatments.
Why Zen Day Spa's Christmas Gift Voucher?
Your most trusted day spa in Sydney has embraced the holiday spirit with our Christmas gift vouchers. We are annually making this possible as a gratitude for all our loyal customers who stayed with us. Earlier this year, our team decided to move from Darlinghurst to a bigger space in Potts Point. This is to accommodate more clients who have consistently craved for our pampering services. 
Availing our Christmas gift voucher means an opportunity to experience our top-notch services. From rejuvenating massages, refreshing facials, satisfying spa body treatments and more, you'll never go wrong choosing us to serve you. Our friendly staff and experienced therapists are ready to make you the happiest this Christmas season. Make this yuletide season something to remember and buy our Christmas gift voucher now.
*Some conditions are not suitable for massage therapies. Please speak to your doctor about any health concerns you may have before making an appointment.
Provide The Best Customer Experience.
Our highly trained therapists are committed to excellence, infused with enthusiasm and take pride in delivering a pampering experience that will leave you feeling relaxed and stress-free.