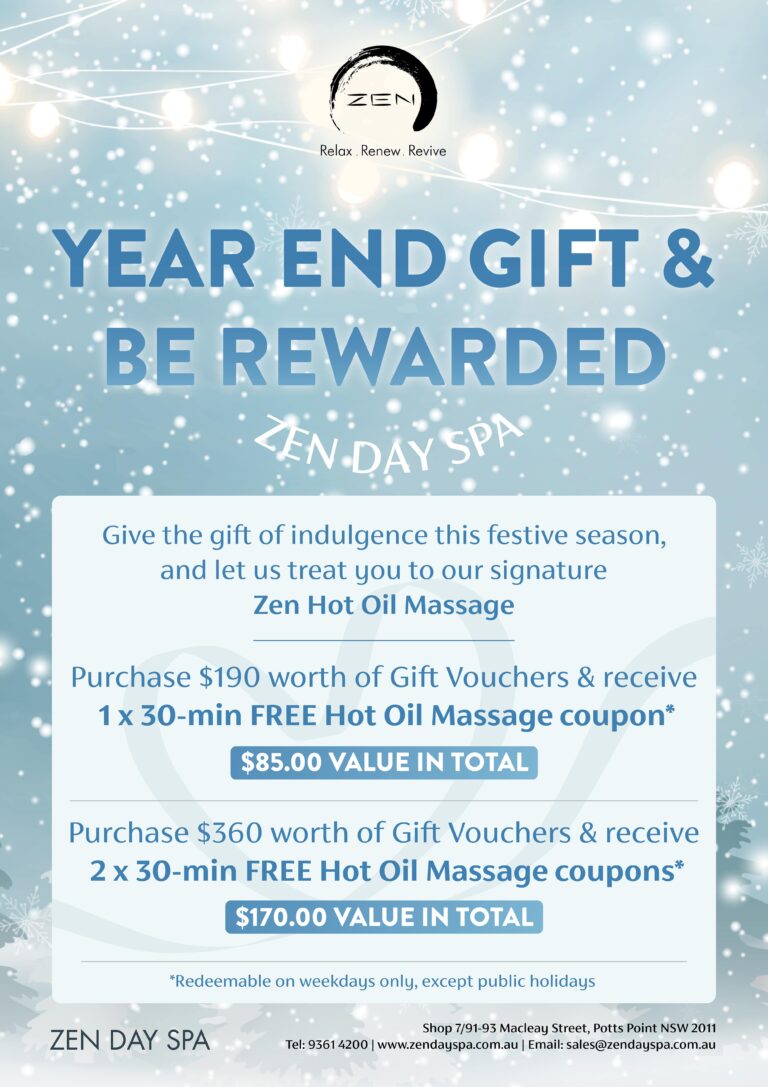 Indulge in the ultimate rejuvenation experience as the cherished oasis of well-being, the massage and facial spa, makes its glorious return with an extraordinary delight! It's a token of our heartfelt appreciation for your unwavering support and the radiant joy you've brought to our day spa.
In the spirit of gratitude and celebration, we're thrilled to unveil an exclusive Christmas gift for our cherished customers: introducing our spectacular Year End Gift & Be Rewarded promo!
Mega Gift Voucher Sale Inclusions
Do you have someone in mind who deserves the gift of a blissful Christmas massage? Well, the time has come to orchestrate an unforgettable surprise! We're thrilled to announce the return of our much-anticipated Mega Gift Voucher Sale, which we call this year as Year End Gift & Be Rewarded. Just as in previous years, we're extending complimentary coupons based on the quantity of Christmas gift vouchers you acquire. Here are all the exciting details for this year's gift voucher extravaganza:
$190 worth of Gift Vouchers – One (1) 30 minute FREE Hot Oil Massage Coupon 

$360 worth of Gift Vouchers – Two (2) 30 minute FREE Hot Oil Massage Coupons
Christmas Gift Vouchers as Your Holiday Surprise!
Imagine your best friend, a cherished relative, or a loved one who's put in tireless effort throughout the year. Picture them as the perfect recipient of our Christmas gift vouchers. This is their chance to escape from the daily grind, both physically and mentally. What makes it even more wonderful is that they get to pick their ideal spa treatment. After all the anxiety and stress, we've all endured, we deserve a rejuvenated holiday spirit.
Get ready to receive complimentary coupons when you take advantage of our spectacular gift voucher sale. There's a variety of options to choose from, as showcased in the poster above. If you're someone who plans ahead and likes to get your gifts in advance, there's no better moment than now. Reach out to Zen Day Spa today and gift them a spa day this Christmas! It's the perfect way to show you care and help them unwind.
Christmas Spa Day as a Gift
In addition to our fabulous gift vouchers, treat yourself or a loved one to a delightful spa day with our Christmas Gift Ideas. Explore a treasure trove of spa treatments, luxurious spa packages, and specially discounted skincare products. Discover the crème de la crème of massages and facial treatments that every recipient will undoubtedly adore.
To delve deeper into these exclusive offerings, simply reach out to us via email or phone. If you prefer a more interactive experience, you can chat with our friendly customer service team by clicking the icon at the bottom right of your screen. We're here to make your holiday season extra special!
Use our Gift Vouchers to Avail our Spa Treatments​
If you are one of the recipients of our gift vouchers, it's time to know how to redeem it. Your gift voucher is non-refundable and is not exchangeable for cash in part or as a whole. Moreover, if you can't see any exact spa treatment mentioned, you can redeem it as long as the price is less than or equal to your spa voucher. But any amount exceeding the certificate value can also be settled by cash or credit card. You can read the rest of our terms and conditions on our gift voucher page.
An open-value gift voucher could mean you can choose from our wide range of spa treatments. From massages, facials, and other body treatments, we guarantee that whatever you choose, it will be worth it. If you are interested in having a Neck, Back, and Shoulder massage, having a $200 gift voucher is more than enough. This treatment is one of our more popular ones when it comes to releasing stress. For your gift voucher purchase, please call us at 02 93614200 or email us at [email protected]. T&Cs apply.
*Some conditions are not suitable for massage therapies. Please speak to your doctor about any health concerns you may have before making an appointment.
Provide The Best Customer Experience.
Our highly trained therapists are committed to excellence, infused with enthusiasm and take pride in delivering a pampering experience that will leave you feeling relaxed and stress-free.